Manicures & Pedicures


 Spa on the Avenue Classic Manicure
Nails and cuticles are manicured, followed with a relaxing hand massage, then polished. $32

 Glow Manicure
In addition to the Classic, you will receive an exfoliation treatment that softens and moisturizes the hands. $37

 Gel Manicure – Our Most Popular*
A lasting polish with high-gloss shine and zero dry time. Includes removal and reapplied. $45

 Diamond Ring Manicure
Our Glow Manicure with additional intense, moisturizing effects of a warm paraffin wax, which helps to refine and restore dry, rough skin followed with relaxing massage. $47

 Add Ons
| | |
| --- | --- |
|  Add Gel Polish | $15 |
|  Remove Gel Polish | $15 |
|  Extra Massage Time (10 Minutes) | $10 |
|  Add Paraffin Treatment | $15 |
|  Add French | $10 |
|  Nail Art (per nail) | $10 & up |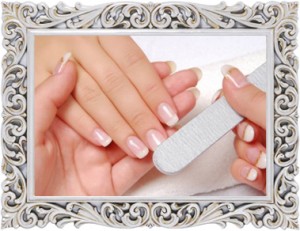 Enjoy a relaxing soak in one of our four massaging pedicure chairs. There is so much more to a Pedicures than just keeping feet looking good in the summertime. Year around pedicures help to maintain healthy feet, keeping nails trimmed, calluses controlled, and feet moisturized.  Professionally cleaning and trimming toenails will help prevent ingrown toenails, fungi, and infections. In addition, a relaxing leg and foot massage helps to relieve tension and stimulates circulation.  Who doesn't want a foot massage?

 Spa on the Avenue Classic Pedicure
After a relaxing soak, nails and cuticles are manicured followed with a massage then polish. $45

 Glow Pedicure – Our Most Popular*
In addition to our Classic, you will receive an exfoliating, hydrating sugar scrub that polishes and creates a healthy glow. The benefits of the scrub are a must. $50

 Glass Slipper Pedicure
Lose yourself in luxury, our Glow Pedicure with the additional intense, moisturizing effects of warm paraffin wax, which helps to refine and restore dry, rough skin. With more massage time you'll feel like a princess. $60

 Deluxe Spa Pedicure
Luxury at its finest! Special scented foot soak, exfoliation scrub, hydrating mask and luxury lotion massage. $60



 Seasonal Spa Pedicure
Luxurious, moisturizing scents of the season to create an experience that will leave your skin soothed, nourished and hydrated. $55

 Milk and Honey  Pedicure
This pedicure soak soothes, revitalizes, and leaves the skin fresh and clean. Honey naturally moisturizes, while lactic acid from milk refreshes and stimulates the skin. $60

 Add Ons
 Add Gel Polish

$15
 Remove Gel Polish

$15
 Add Extra Massage Time (10 Minutes)
 $10
 Add Paraffin Treatment
 $10
 Add Callus Treatment
 $10
 Add French
 $10
Nail Art (per nail)

$10 & up

 
 Foot Masks – loaded with intense antioxidants to rejuvenate and seal in moisture, delivering soothing feet.
$10
 
Due to possible skin irritation, we ask that you do not shave your legs the day of your pedicure
CURRENTLY WE ARE NOT OFFERING ANY ACRYLIC NAIL SERVICES on anyone other than those already booked for the year. Hope to be except new Acrylic clients soon.

 Full Set Of Sculptured Nails (includes gel polish). $55, not currently available

 Overlay of Acrylic on your nails (no length added). $50, not currently available

 Fill In On Acrylic Nails (includes 1 repair & gel polish). $45, not currently available

 Soak off (removal only, no manicure) of Acrylic Nails. $30 We recommend adding one of our manicures to this service. not currently available

 Add Ons
| | |
| --- | --- |
|  Additional Nail Repair With Fill In (per repair) | $3 |
|  Nail Repairs Between Fill In (per repair) | $5 |
|  Add French | $10 |
|  Add Paraffin Treatment | $10 |
|  Add Nail Art (per nail) | $10 & up |